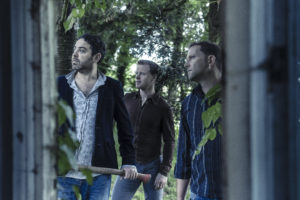 We are delighted to release a brand new track from our musical partners in the Lancashire Cotton Famine Poetry project, Faustus. The group have been working on setting some of the texts we have recovered and have produced a fantastic arrangement of this fascinating piece, 'Cotton Lords'.
The poem was discovered in Blackburn Central Library and was originally published in the Blackburn Times on July 2nd 1864. Actually 'published' is not the whole story because the piece appeared in an editorial comment about the kind of poetry that the editors would not publish. In a very real sense, this is the one that got away. It has often been noted that there is not as much anger in Lancashire Cotton Famine poetry as one might expect, and this example perhaps suggests that there was angry poetry written, but it just didn't get published.
The poem is intensely political and demands that the industrialists who have made money from the workers in the past have a responsibility to feed those workers when work dries up. The line 'food's conducive to their health' is wonderfully sarcastic and a great example of poetic understatement ('litotes', to get technical). The last stanza is particularly interesting in terms of fears about female morality in the face of economic deprivation. The poem was original titled 'Food or Work' but we agree with Faustus that 'Cotton Lords' works better as a song title.
Cotton lords! Lords of creation,
Feed the slaves which made your wealth;
Is not this a Christian nation?
Food's conducive to their health.
Tho' you shut your factory gates,
Sell your cotton, stop each loom;
Tho' war is raging in the States,
The cotton tree twice yearly bloom.
The time will come when you'll be buying
Cotton for to work each slave;
Food or work for they are dying,
Save them from an early grave.
Save the English maiden's beauty,
Keep them from immoral crime;
Those that has, it is their duty,
For to help at such a time.
There will be more exclusive tracks from Faustus on this site in the future so keep an eye (ear) out for that. But for now sit back and listen to Lancastrian anger transmitted across the centuries via Britain's premier traditional music trio.
Dr Simon Rennie