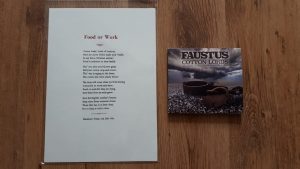 Cryptic Cotton Famine Poem #1
In order to gear up for the imminent massive expansion of our Cotton Famine poetry database (look out for 300 more poems being added later this spring!) we are pleased to announce the inaugural Cryptic Cotton Famine Poem Competition.
Solve the cryptic clues to complete this extract from a genuine nineteenth-century Cotton Famine poem. Use your cryptic solving skills along with your knowledge of poetic and historical context. Don't bother trying to Google it, this has never been digitised, and was last seen in a local newspaper in the 1860s. It is one of hundreds of poems being prepared for inclusion on the Poetry of the Lancashire Cotton Famine database.
 Message (don't Tweet and give the game away!) the completed version of the poem including your 21 correct answers to @cottonpoetry, or send it to s.rennie@exeter.ac.uk before April 24th 2020 to enter the draw to win a free Faustus Cotton Lords CD and limited edition fine print lyric sheet. The answer will be published here and on the Twitter account on April 24th along with the Twitter handle of the winner.
1          'A Voice Out of the ——–'
2,3       —— of —-, how long, how long
4,5       Shall ——, sadness, be the —– of song?
6,7       The ——— chimney and the silent —-
8,9       ——- each day accumulated —–.
10,11   Less hopeful seem the ——- of ——–,
12,13   Who hitherto have —– with —– manliness,
14,15   In ….. see this fratricidal ——,
16,17   That —– ——- on to brother's life.
18,19   —- this sad war, and —– may we see
20,21   The gentle —– of peace and ——–.
Misery from Diana's lock of hair? (8)
Trim part of the book carer (6)
Benevolent deity with nothing inside (4)
Renown about in dearth (6)
What it's about in the meadows? (5)
Clean fuel and cut down (9)
Imminent machine (4)
Mirror in ref lecture (7)
Dark weaver after gravity (5)
Timothy's after Queen's sufferers (7)
Sorrow Street, about in Norfolk town (8)
Carried hear no longer carried (5)
Aristocrat, the French aristocratic… (5)
Clemency? Hear French thanks (5)
Conflict is way common! (6)
Encourages desires (5)
Cold noise different to relative? (7)
Remain supportive (4)
Nobleman gets annual prompt (5)
Hear drops of sovereignty (5)
River attempt to work (8)
GOOD LUCK!