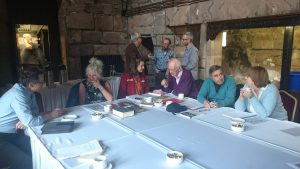 Chetham's Library Workshop, April 22nd 2016
Project Partners
A vital part of a large-scale project like this is its associations with non-academic partners. These individuals and institutions perform different roles in conjunction with the activities of the academic team (myself, Professor Maidment, and Dr Mather), enabling the project to function in itself and to operate as an outward-facing entity. Some partners will provide space for events and important outlets for dedicated publicity, some will provide links with schools to maximise the educational potential of the project, and still others engage with the artistic and performative aspects of the material we are uncovering.
On the 22nd of April 2016, some time before AHRC funding was awarded for the project, Professor Maidment and myself hosted an all-day workshop funded by Exeter University's College of Humanities Link Fund on the potential of research into Lancashire Cotton Famine poetry. The workshop was held in the medieval space of Chetham's Library in Manchester, which has become an important partner in the project. With both academic and non-academic input from participants, the workshop's dual aims were to set out the objectives of the project, and to establish links with potential project partners. Academic papers were delivered by myself, Professor Maidment, Dr Andrew Hobbs (UCLAN – an expert on nineteenth-century British newspaper poetry publication) and Professor Alan Rice (UCLAN – an expert on transatlantic discourse and the 'black Atlantic'). There was also a sample performance of dialect poetry and song from Jennifer Reid. Also present were representatives from Lancashire County Council's Museums Heritage Learning Service, the Elizabeth Gaskell Society, the Portico Library, and the Manchester Centre for Regional History (based at MMU). Also present were distinguished scholars and writers on working-class poetry, Dr Brian Hollingworth and Dr Mike Sanders (Manchester University). Discussion with partners centred on the way that this material can be disseminated to the public but also the role of the public, either through individuals or groups, in finding and collating the material. Further contacts were subsequently made with the Working Class Movement Library in Salford, the Elizabeth Gaskell House, and the traditional music ensemble, Faustus. Below I will briefly list the project's partners and their roles, providing links to websites where appropriate:
Chetham's Library – Possibly the oldest public library in continuous use in the English-speaking world, Chetham's Library is a hidden architectural gem in the centre of Manchester. Karl Marx wrote some of his famous works there and the library holds many important local collections, including the recently acquired Eddie Cass Collection, which contains several Lancashire Cotton Famine novels. The library has supported the project since its inception and we will be hosting more events there.
Elizabeth Gaskell Society – The Elizabeth Gaskell Society is devoted to the promotion of the works of that writer but is also very active in exploring the world and culture around her in the Manchester and Cheshire areas in the mid-C19th. Gaskell and her husband, William, were active in relief efforts for the famine and were deeply engaged in working-class contemporary culture – William was an expert on local dialects. I gave a talk on this project at the most recent AGM of the Society and will be giving another talk at the southwest branch in Bath next May. The society will be hosting events for us.
Elizabeth Gaskell House – Incredibly, the house where Elizabeth Gaskell and her family lived near the centre of Manchester for many years has survived extensive urban developments in the area and has been restored to its former glory as a literary museum and learning space. This is an amazing place to visit and I am lucky enough to be giving a talk there this coming September 20th – http://elizabethgaskellhouse.co.uk/events/merikay-war-lancastrian-poetic-commentary-american-civil-war-cotton-famine/
http://elizabethgaskellhouse.co.uk/
Portico Library – Another hidden gem in the centre of Manchester, with its beautiful domed ceiling and original bookshelves, the Portico Library was where William Gaskell borrowed his books (and because women were not allowed to be members of this private library at that time, he got books for the whole family!). The Portico Library will be hosting events and we very much look forward to our further association with them.
Working Class Movement Library – The WCML in Salford is a vital centre for working-class literature and radical history based in the north of England. It regularly hosts events featuring labour historians and literature scholars both academic and amateur, and also many writers. They have an already existing strong association with our partner, Jennifer Reid, and we are hosting our first interactive Cotton Famine poetry event there (with Jennifer) on Saturday October 7th at 1pm.
Manchester Centre for Regional History – Although strictly speaking they are academic partners, Manchester Metropolitan University's MCRH work to promote regional history study to academic and non-academic audiences. Through our main contact there, Dr Craig Horner, the Centre will provide space for seminar-style events dedicated to the project. The Centre is an important hub for historical regional enquiry and its journal publication, the Manchester Region History Review has contained writing by the leaders in the field (including our own professor Brian Maidment). I am particularly looking forward to renewing my acquaintance with MMU because I studied for my undergraduate degree there and lectured there for a while in the English department.
https://www2.mmu.ac.uk/hpp/mcrh/
Lancashire County Council's Museums Heritage Learning Service – In conjunction with Jessica Forshaw, who represents LCC's Heritage Learning, we will be designing projects which will enable Lancashire schoolchildren to undertake primary research. They will be able to participate in supervised searches for original Cotton Famine poetry which lies mostly unread in local newspapers in libraries around the region. They will then transcribe the poems and be credited with their discovery on the eventual database we are creating. This is one of the most exciting aspects of the project and we are very grateful to LCC, whose enthusiasm for the scheme was there right from the start. We will also be holding events in some of the amazing industrial spaces in the region, such as Helmshore Mill (http://www.visitlancashire.com/things-to-do/helmshore-mills-textile-museum-p7153)
http://www.lancashire.gov.uk/leisure-and-culture/museums.aspx
Jennifer Reid – Jennifer is Manchester's premier ballad singer and is a highly sought-after performer with an extensive knowledge of C19th working-class culture. Amongst other things, she has clog danced at the Venice Biennale (!), and appeared in many radio and TV programmes. As well as working with us in our events, Jennifer is also undertaking vital research into the links between Lancastrian and Bangladeshi industrial song. She will be setting some of the poems we find to song, especially those in Lancashire dialect. We feel very lucky to have her on board.
http://jenniferreid.weebly.com/
Faustus – Faustus are one of the most respected traditional music groups in the country, recently winning the prestigious German Record Critics Award and contributing to the staggering success of the folk musical The Transports. My first real association with the group (after being a fan for several years) came in October 2015 when I chatted to their violinist, Paul Sartin, after a gig in Exeter. This led to Faustus recording a setting of a Chartist poem, 'Slaves', which then went on to become something of a signature tune (my previous research was into the poetry of Chartism). Our association has continued and the group have worked on musical settings of some of the material we have found and will be recording them soon. We can't wait. As soon as we hear them, you will.
Dr Simon Rennie
University of Exeter